About CEEBL
CEEBL enabled enquiry-based learning methods to be developed widely across the whole of the University of Manchester at both undergraduate and postgraduate levels.
CEEBL funded one major project in each of the four Faculties of the University (Engineering and Physical Sciences, Humanities, Life Sciences, and Medical and Human Sciences), together with a raft of smaller projects across all Faculties and in Centres based outside of Faculties.
CEEBL was structured using a 'hub and spoke' model — a central 'hub' supporting local developments through a 'spoke' within each Faculty.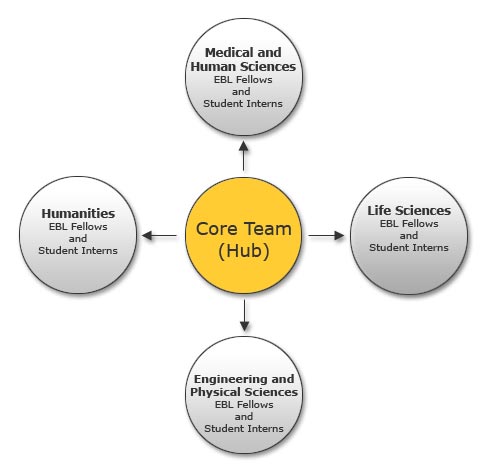 The Centre provided a base for a core team of staff as well as for expert staff (e.g. consultants in such areas as student development and assessment) and student interns. The Faculty spokes comprise staff experienced in developing EBL within specific disciplines.
Funding
The Centre was one of 74 Centres for Excellence in Teaching and Learning (CETLs) awarded by HEFCE to promote excellence in teaching and learning in higher education.
The Funding Council provision of £4.5m funding over five years enabled us to extend the range and scope of Enquiry-Based Learning activity throughout the University, disseminating and supporting related initiatives across the UK sector and in an international arena.
CEEBL Aims
To extend EBL methods to teaching across all four Faculties of the University of Manchester
To expand the University of Manchester's capacity for EBL by developing the expertise and experience of tutors and consultants across the institution
To develop appropriate networks and partnerships with a range of institutions and organisations in order to promote EBL
To make a major contribution to pedagogic research in EBL and cognate areas
To establish CEEBL as a nationally and internationally recognised centre for EBL expertise and practice
To work with students in a spirit of collaborative enquiry and learning
To establish a continuation strategy for CEEBL as a centre for expertise in, and continuing support for and development of, EBL across the institution
For more information please see our Strategic Plan (PDF, 79Kb)